Arundel Volunteer Fire Department
Proudly serving the Crofton, Davidsonville, Gambrills and surrounding communities in Anne Arundel and Prince George's County, Maryland for over 50 years.
Our History
It was a few minutes past 12 on that cold New Year's night in 1956 when the first call for help with a chimney fire on Evergreen Road was received. The members of the county's newest fire company, the Arundel Volunteer Fire Department, were trained and ready. The calls for assistance have not abated since 1956. During the first year of operation, the AVFD responded to 54 calls.
Much has changed in the area over the last four decades, including a population explosion. "Back in the 1950s this area was primarily a farming community of about 150 homes, " recalled Joseph Klein, first chief of AVFD. "There was a strong sense of belonging, of helping one another. That's what helped us put this company together. "Klein, a retired professor of chemistry at the Naval Academy, said that from its inception to operation, the AVFD came on-line faster than any other company in Anne Arundel county history.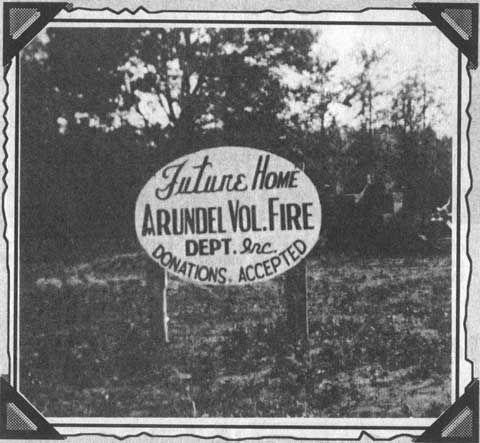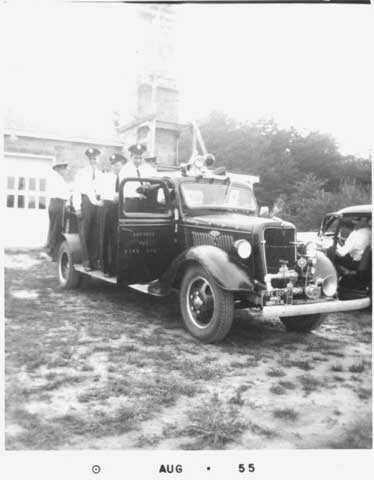 The idea for starting a company was first explored at a March 1, 1954 meeting of Arundel Grange No. 425, after three children had been killed in a house fire. At the meeting, it was pointed out the nearest fire company, West Annapolis, was 12 miles away, while departments at Herald Harbor and Odenton were each 15 miles away. The original notes of the first meeting state: "The Arundel Grange called a meeting at the Gambrills Athletic Club for the purpose of forming a fire department in the vicinity of Defense Highway and Davidsonville Road. Acting chairman at this first meeting was George Boschert. Mr. Carr, from Riva Fire Department, pointed out some of the high lights of forming a new fire department. A committee was formed to find land as a possible location for the new department. Acting chairman of the committee was John Abend. Committee members included: Joe Doljan, Marion Ford, Richard Kisser, John Jorden, Robert Dick, Capt. Campbell, Joe Klein, Anthony Pokony, Ben Chaney and Francis Jones."
On March 10,1954 the first slate of officers was chosen: Benjamin F. Chaney, president; Thomas E. Campbell, vice president; E. Francis Jones, secretary; Alvin Clark, corresponding secretary; Louis A. Boehm,treasurer, and Joseph Dolgan, sergeant-at-arms. Yearly dues were set at $2.00 At the next meeting on March 15, 1954 a motion was carried to name the new company the Arundel Volunteer Fire Department. "We really got rolling at this meeting when Otto Gerstner, a local farmer, donated two acres of his land as the site for our first building," said Francis Jones, one of the first enginemen at the station. "He also gave us timber for the building and dug our well. You might say he was the 'father' of our company."
A $5,000 construction loan was granted in June by Farmer's National Bank in Annapolis and work on the building was ready to begin. But this was a volunteer fire department, and the labor to put up the building was volunteer, too.
As head of the building committee and later a first lieutenant,Kenny Jorden said work groups were formed every Saturday for a year-and-a-half. "People would come out and do what they could: mix concrete, dig holes, put up walls and the roof, " he remembered. "The people here were quite a self-sufficient lot."
As with the labor, much of what went into the building was donated by local residents, farmers and business people."There was an old sawmill down at Routes 3 and 450 which was wiped out by fire," Chief Klein added. "After the owner rebuilt, he gave us the lumber he milled for free. And the lumber came from trees on Otto Gerstner's farm."
That first building, which now is used for fundraising events and community activities and is adjacent to the present fire station,contained three equipment bays, sleeping quarters, kitchen, boiler room and rest room.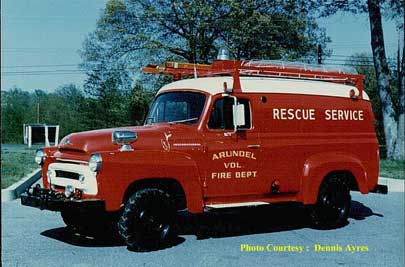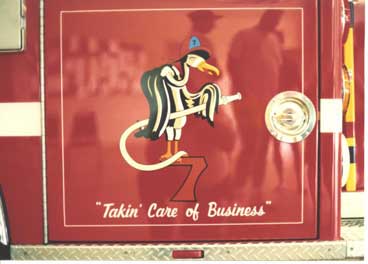 The first group of volunteers were graduated from the University of Maryland Firemen's Training Course on April 20,1955. They were: Frank J.Abend, John A. Abend, Jr., Benjamin F. Chaney, Alvin Clark, Robert C.Dick, Joseph Doljan, Jr., Robert A. Gaug, Otto J. Gerstner, J. Everett Hall, F. Francis Jones, John N. Jorden, Joseph H. Klein, Robert A.Kinder, James C. Kirby, J.B. Lerch, Jr., Frank Machande, William Machande, Raymond R. Sears, Robert B. Sears, Roy S. Sears, Herman G. Sommer,
During those first cold January days of service in 1956, the 86-member company fought fires with a 1955 model 500-gallon pumper engine and a donated 1935 Ford fire truck.
By the late 1960s it was evident that the 30'x60' building was too small to meet the department's and the community's needs. AVFD had five pieces of firefighting equipment housed in a three-bay building.
This time, the Anne Arundel County government helped to erect a new fire station on Route 424. The County put up $135,000 and the volunteers made up the difference in the $151,000 price tag. In 1971, they moved in.
At the station today are two pumper trucks, ambulance,utility vehicle, heavy duty squad and chief's car.
While the demographics of the county have dramatically changed,the basic need for AVFD to raise funds to support its work has not. Since the days of the first 65-member Auxiliary dinners, fund raising has been an integral part of the company's operation.
"People, time and money are still the key elements in making a successful volunteer fire department," said Art Spencer, past Chief of the department. "That has not changed since 1956."
"Being a volunteer fireman today is very demanding," said Art Spencer, past chief."Today, you are expected to put in a certain amount of time at the station, keep up with training and more. In 1956, there were no time standards."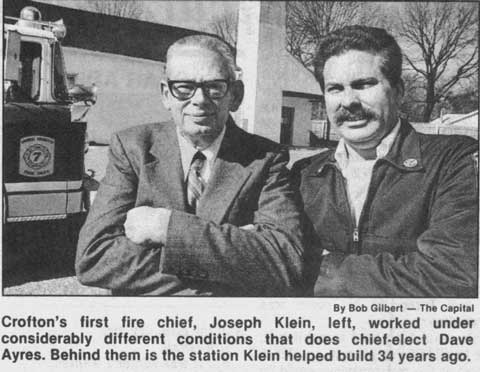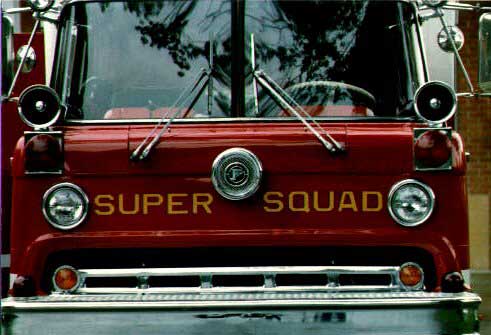 Spencer, who first joined the company in 1964 at age 14, said the big difference between today and yesterday, is the tremendous growth in the area and the county. Since the area was mainly rural, Spencer said, the station was "the place to go, to hang out with your friends when I was young. If there was a fire," he continued, "the farmers in the area would drop what they were doing and come over to help. It was the same with the schools. County policy back then was to let us out of class to help fight fires.
Apparatus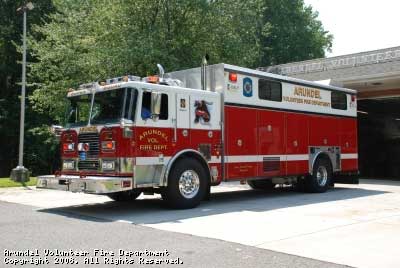 Squad 7
2007 Seagrave Marauder Walk-In Rescue
Squad 7 is the pride of Station 7's apparatus line. This unit is one of Seagrave's first 'all-in-house' fully custom heavy rescue squads and features everthing needed for heavy rescue and fire suppression support duties. These features include seating for 9 firefighters, a double-set of Hurst hydraulic extrication tools, a full compliment of lifting, stabilization and cribbing gear, portable lighting and power generation equipment, BLS level medical supplies with AED, fixed lighting including a remotely-controlled 6000W light tower, an air cascade, rope and water rescue gear, over 50' of ground ladders as well as other various ventilation and fire suppression equipment. As one of the few 'true' heavy rescue vehicles in the combined AACoFD fleet, Squad 7 can be frequently seen responding to Annapolis, PG County and throughout Anne Arundel County.
Engine 71
2016 Pierce Arrow XT
Engine 71 (said "Engine 7-1") is the AVFD's newest piece of apperatus and it our front line fire suppression unit. This apparatus has seating for 8 firefighters, and is equipped with a 1250 GPM single-stage pump, 750 gallon water tank, a portable Hurst combi-tool and all equipment necessary for fire suppression duties.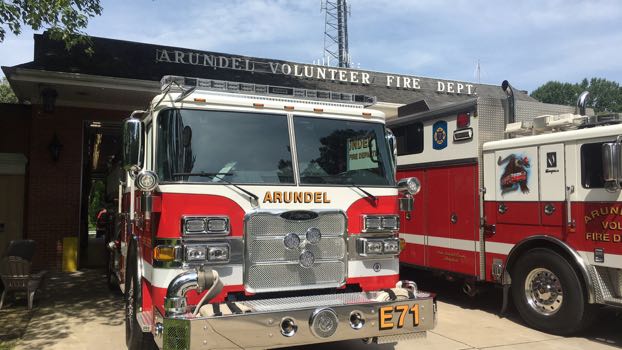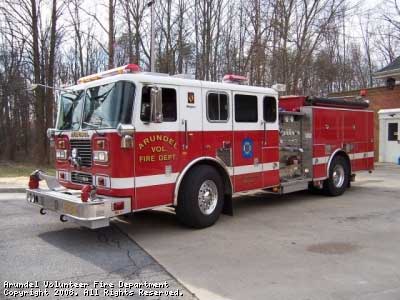 Engine 73
2003 Seagrave Marauder Pumper
Engine 73 (said "Engine 7-3") is the AVFD's second line fire suppression unit. This apparatus has seating for 8 firefighters, and is equipped with a 1250 GPM single-stage pump, 750 gallon water tank and all equipment necessary for fire suppression duties.
Utility 7
Ford SUV
Utility 7 serves as a support vehicle, used for hauling equipment to or from emergency scenes. It is also used for limited responses during storms or other events where the station 'up staffs'.
Chief 7
Ford SUV
Chief 7 provides a mobile command center and transportation for the Chief of Arundel VFD.
Ambulance 79
2020 Ford F550
Ambulance 79 (said "Ambulance 7-9") serves as the front-line Basic Life Support medical transport unit. Since 2020, this unit is owned by Arundel VFD.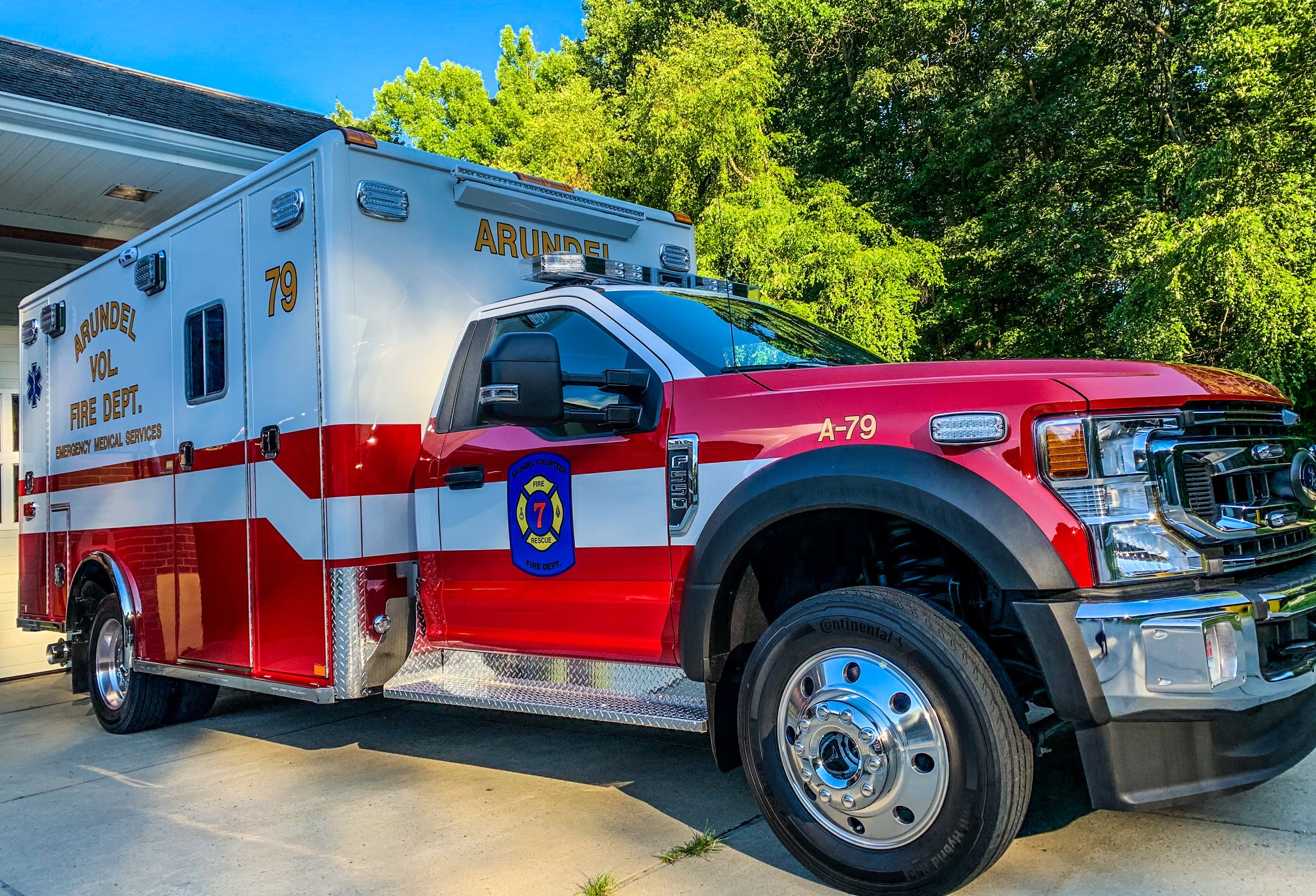 Assistant Chief 7
Ford SUV
Assistant Chief 7 provides a mobile command center and transportation for the Assistant Chief of Arundel VFD
Brush 7
2018 Ford F550
Brush 7 is a Type 6 Brush Truck designed to handle brush/woods/trash fires, and is equipped to access off-road locations that Engines or larger apparatus are unable to reach. Brush 7 has a 200 gallon water tank, a Darley 24 HP pump, and all equipment necessary for brush fire suppression to include over 800 ft of forestry hose. Brush 7 maintains a full complement of BLS medical equipment and can be equipped with a 9.6' Western plow for winter operations.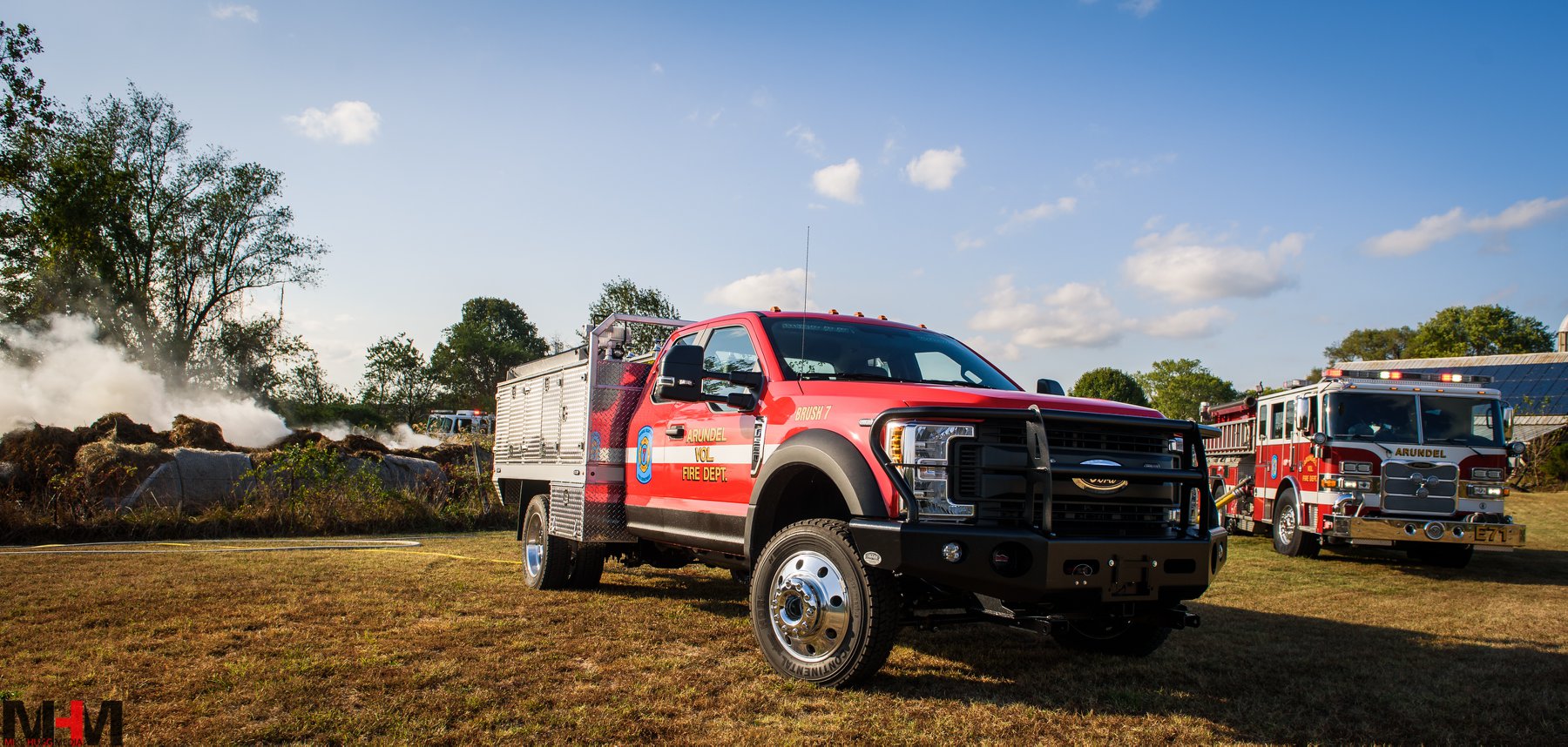 Contact Us
Arundel Volunteer Fire Department
2380 Davidsonville Road
Gambrills, MD 21054
Non-Emergency: 301-261-0060
Emergency: 911

Station Stats
Station Calls
| Month | ENG | SQ7 | A79 |
| --- | --- | --- | --- |
| December | 0 | 0 | 0 |
| November | 0 | 0 | 0 |
| October | 0 | 0 | 0 |
| September | 0 | 0 | 0 |
| August | 137 | -22 | -181 |
| July | 128 | 49 | 190 |
| June | 159 | 6 | 193 |
| May | 152 | 0 | 181 |
| April | 149 | 0 | 184 |
| March | 140 | 0 | 156 |
| February | 128 | 13 | 140 |
| January | 101 | 59 | 182 |
Top Responders
| Month | EMS | FIRE |
| --- | --- | --- |
| December | | |
| November | | |
| October | | |
| September | | |
| August | FFI Ramy El-Lissy | FFI Ramy El-Lissy |
| July | FFI Ramy El-Lissy | FFI Ramy El-Lissy |
| June | FFI Ramy El-Lissy | FFI Ramy El-Lissy |
| May | FFII Ryan Kleintank | FFI Ramy El-Lissy |
| April | FFI Ramy El-Lissy | FFI Ramy El-Lissy |
| March | FFI Ramy El-Lissy | PFF Andrew Hoak |
| February | FFI Ramy El-Lissy | PFF Andrew Hoak |
| January | FFI Ramy El-Lissy | FFII Caden Brian |
Deceased Life Members
Gone but Never Forgotten
Ben Chaney
E. Francis Jones
Kenny Jorden
Marie Jorden
James Bryan Housenfluck
Joe Klein
Roy Sears Sr.
Don Pratt